Waymakers' Victims' Rights Awards Zoom was held during National Crime Victims' Rights Week and National Sexual Assault Awareness Month. Our Victims' Rights Awards honor professional and community partners of Waymakers' Victim Assistance Programs for their dedication and commitment to crime victims and their families. And the 2021 honorees are: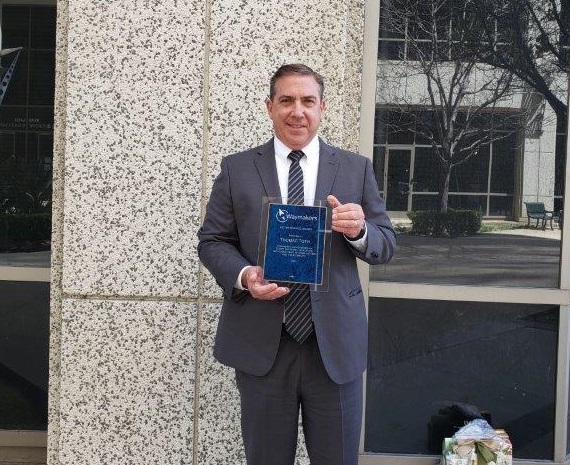 Tom Toth, District Attorney Investigator, Orange County Family Protection Unit, Santa Ana
Tom is an investigator with the Orange County District Attorney's Office on the family protection unit, handling domestic violence related cases. His work involves supporting victims in his role as an investigator and valuing the importance of the victim advocate's role. Tom's unique dual role as a police officer and investigator, combined with years of experience, enables him to engage with victims and come up with invaluable solutions.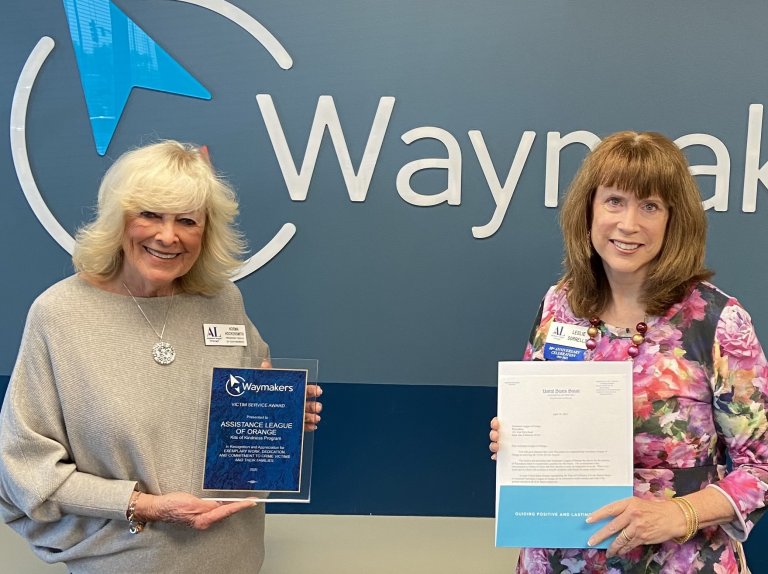 Assistance League® of Orange County, Kits of Kindness Program
Celebrating its 80th anniversary (1941–2021), ALO seeks to transform lives while strengthening its community. The ALO supports 20 philanthropic programs to provide services to infants through adults. The Kits of Kindness program it designed for Waymakers provide stress-relieving fidget balls and sensory objects to those being processed and awaiting trial; and the organization provides Assault Survivor Kits® full of new clothing and hygiene supplies for victims. The ALO also supplied bean bag chairs, a new gaming system and new board games, a variety of movies and books and toys for the Lamoreaux Justice Center children's waiting room—always creatively supporting our mission to help people find their way!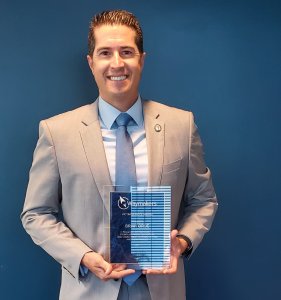 Brian Orue, Deputy District Attorney, Orange County District Attorney's Office, Santa Ana
Brian joined the Orange County District Attorney's Office in 2013 and currently serves as a Deputy District Attorney in the Homicide Unit specializing in Vehicular Homicide Cases. A prosecutor for more than seven years, he gained a passion for DUI prosecution and the need for regular training to keep prosecutors and law enforcement agents current in this area of the law. Brian has also prosecuted cases involving sexual battery, carjacking, attempted murder and vehicular homicide. Having personally witnessed the devastating effect crime has on victims, their families and the community, Brian prioritizes victims and works diligently with victim advocates to provide the support survivors need and deserve.
The Distinguished Service Award recognizes the extraordinary efforts of a member of Waymakers' Victim Assistance Programs staff whose work is outside of direct advocacy.
Camille Coronel, Supervisor, Training Program of Santa Ana
Camille has been with Waymakers for more than 10 years. Beginning as a health educator for Project PATH, she focused on alcohol and other drug prevention—educating the community about the dangers of alcohol and prescription and over-the-counter drug abuse among youth. Camille later became a Human Trafficking coordinator, then an advocate working with survivors and law enforcement. As an on-call advocate, she empowered individuals on their journeys of healing. She later transferred her skills and knowledge to the training team as a coordinator before becoming training supervisor for local and statewide trainings. Camille has an open-door policy, the knowledge of best practices across the state, and the proven leadership abilities that have led to multiple innovations in the victim services field. Our reputation has been built and sustained as experts in the field, thanks to Camille's diligent work!
The Betty Delaney Victim Service Award honors the extraordinary efforts of a member of Waymakers' Victim Assistance Programs staff whose work focuses on direct victim services.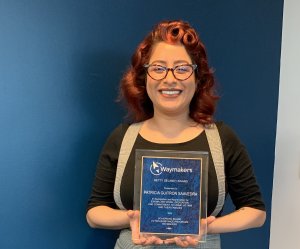 Patty Saavedra, Victim Advocate, Fullerton Police Department
Patty connected with Waymakers in 2011 as a volunteer with the Victim/Witness office at Central Justice Center. Shortly after, she joined us as a witness specialist at West Justice Center—carefully ensuring the victims she served were well informed about their rights and that their voices were heard. Patty has been a driving force in forming a highly successful partnership between law enforcement and victim services, working alongside detectives in the Crimes Persons/Family Crime Unit at Fullerton PD. Her English-Spanish skills and cultural knowledge are essential in connecting non-English speaking victims to much-needed services. Patty says the best thing about her job is seeing clients in crisis work through their trauma and begin to make healthier choices for themselves and their children.
The Valor Award is presented to an individual who has shown strength and resilience in the aftermath of crime victimization.
Erin Mendoza
Erin, a single mother of three boys, was a victim of human trafficking from childhood until adulthood. She found Waymakers in December 2015, feeling very much felt alone and helpless. But her case worker gave Erin the best gift, a hug. Erin couldn't remember the last time she had been touched by another human (besides her kids) in a way that didn't make her feel dirty, pressure her to earn money or give another person pleasure through her pain. With Waymakers' by her side, Erin went from homelessness to permanent housing; learning coping skills along the way that helped her thrive in a support system she'd never had. Erin graduated from the human trafficking program in August 2018. She says the unconditional support and encouragement she received kept her not only from dying, but took her by the hand and brought her from victim to survivor to actively participating in her own life. Erin believes nothing can hold her back from her own happiness.
The Visionary Award is granted to an individual or organization that has shown exemplary support for Waymakers' victim assistance programs and worked tirelessly to elevate Waymakers' key messages.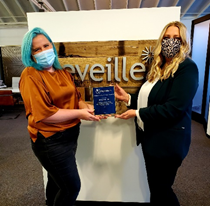 Reveille, Inc.
This year, we recognized the integrated marketing campaign put into motion by Reveille, Inc. Reveille launched an powerful campaign in 2019 called "SafeWithUs." The campaign ran through social media, bus shelter and theater advertising. Reveille aimed to increase call volume to Waymakers' victim support hotlines by 10 percent. During the four-month campaign, we gained more than 52 million impressions of "SafeWithUs." We saw inquiries increase by 35 percent in September and October, and 20 percent in November and December. With innovative advertising and targeted engagement, Reveille successfully positioned Waymakers as a leading resource in guiding OC victims on a positive path through our Victim Assistance and Sexual Assault Programs.